I need a lot of birthday cards in the months of June, July and August. That is why almost every card that I make is a birthday card. I was able to combine three challenges with this card. It is stamped with a cute stamp that I have had, and have not used yet. His is such a happy dog.
The image is from Newton's Nook and it is called Delightful Doxies. Then sentiments are from Avery Elle, Thanks a Bunch.
The background is watercolors, using the colors from the JUGS challenge hosted by my talented friend Sharyn Polesel. Turquoise, Lime green, Yellow, Orange and Bright Pink. I snuck in the pink on his scarf. The grass is a die cut from MFT. I also put glossy accent on the balloon.
I am also entering this card in the
Simon Says Monday Challenge
: i scream for…
You are to be inspired by the letter I. I think this dog is
IMPRESSIVE.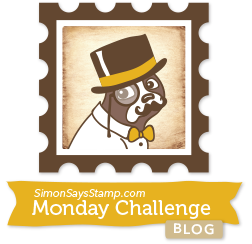 Because I needed reminding and my friend did remind me that I can enter this in Seize the Birthday, I am doing that too. Anything goes there this month, no toppings.
see it here
.
Here is my card.
Thanks for stopping by, I love your comments and enjoy every one. They are appreciated.